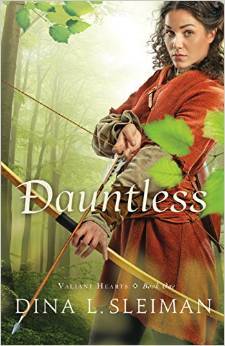 Publisher:
Baker Publishing Group


Release Date:




March 3, 2015
Market:


Christian
Genre:


–

Young Adult, Historical Fiction




Length:




–

368 pages




My Rating:
3.5/5
About This Book (from Goodreads)
Though once a baron's daughter, Lady Merry Ellison is willing to go to any lengths to protect the orphaned children of her former village. Dubbed "The Ghosts of Farthingale Forest," her band of followers soon become enemies of the throne when they hijack ill-gotten gold meant for the king.

Timothy Grey, ninth child of the Baron of Greyham, longs to perform some feat so legendary that he will rise from obscurity and earn a title of his own. When the Ghosts of Farthingale Forest are spotted in Wyndeshire, where he serves as assistant to the local earl, he might have found his chance. But when he comes face-to-face with the leader of the thieves, will he choose fame or love?
How and Why I Acquired This Book
I received this book as an ARC from NetGalley in exchange for my honest review.
My Expectations about This Book
A female Robin Hood…what wasn't there to love about the premise?

I like the cover art of a brave woman with a bow and arrow.

I also was drawn into the heart of the author by the "Reader's Note" at the start of the story.
Were my expectations met?
My expectations were somewhat met.

By the cover, I didn't realize that Merry was actually a teenager.

So I didn't go into it expecting a YA read.

I expected a lot of drama and action.

Instead, I got more description, introspection, and love triangulation.

I wanted to love the book; I ended up merely liking it.
There was *a lot* of description in this book – clothes, features, landscape.

If it could be described, it was.

Repeatedly.

Some of it was overkill.

I've got it…Merry's gorgeous and Timothy has really, really blonde hair.
While I found the prose dragging with description, I found the dialogue choppy and jumpy.

There were long (whole paragraphs worth) of introspection between sentences in an ongoing dialogue between characters.

It was confusing at times.
Characters & Points-of-View
For being so independent, Merry is pretty preoccupied with thoughts of marriage.

I felt like all of the main characters could have been more dynamic.
I did have a hard time keeping track of all of the orphan children and their various roles in the band.

But I did want to understand all the characters and did care about their outcomes.
I think the structure and pace of the story was fine.

As mentioned, there was a lot of repeated back story and repeated description.

But other than that, I have no complaints about the structure.
The conflict and tension felt very one-dimensional.

The outcomes pretty predictable.
I will say that while I guessed the relationship of the villain to the Lord of
Wyndeshire
, I didn't know who he was and how he was connected to Timothy until it was revealed.

So that was a nice surprise.
The story was set in the 1100's – 1200's Medieval England.

The setting was important to the story as you needed the conflict of King John and the rebels as the background to many other story pieces.
This is probably where my biggest disappointment was.

Even though Merry and Timothy both flip-flopped in their emotions quite a bit on the surface, they really didn't.

It was pretty predictable, even with the attempted love triangle.
I would have liked it to be more.

Not more of the story as it was already the majority of the main story line.

More realistic, maybe.
Spiritual Connection & Speculative/Supernatural Elements
Timothy is a believer in the Divine Right of Kings and God.

Allen has more of a personal relationship and knowledge of Scriptures.

Merry has been disappointed by God and figures she can do it all on her own.
I struggled in believing some of the spiritual elements of the story while others were wholly believable.
This book was pretty squeaky clean.

There is a touch of violence but nothing graphic or incredibly descriptive.
Originality & Predictability
I think the premise of a woman (girl) who robs from the rich to provide for a poor band of orphans is an interesting addition to the genre of YA and historical fiction in general.
It was pretty predictable but still a pleasant read.
Audience Appropriateness & Appeal
I would say the target audience is young to middle teen girls.

I think it would appeal to non-Christian readers who like predictable, clean romances.
Engagement, Entertainment & Investment
I did stay engaged in the book throughout.

It was a nice read even though I knew what was coming.
It is the first book in a series.

I can't imagine where the other books in the series will take it.

Dauntless seemed to wrap up very neatly with no loose ends to carry into a second book.
I expected more adventure and less introspection/love.

However, I don't begrudge the time I spent reading it.
·
Interesting concept of a female Robin Hood-esque character
·
Too predictable in many ways
·
A lot of description, introspection, and repetition
**My full review will be published on The Christian Manifesto website on 3.12.15.