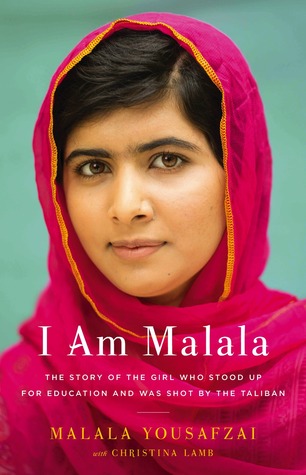 I AM MALALA:

The Girl Who Stood Up for Education and Was Shot by the Taliban – Malala Yousafzai and Christina Lamb
Publisher:
Little, Brown, & Company


Release Date:




October 8, 2013
Market:


Secular
Genre:


–

Memoir, Education




Length:




–

327 pages




My Rating:
2/5 stars
About This Book (from Goodreads)
I come from a country that was created at midnight. When I almost died it was just after midday.


When the Taliban took control of the Swat Valley in Pakistan, one girl spoke out. Malala Yousafzai refused to be silenced and fought for her right to an education.

On Tuesday, October 9, 2012, when she was fifteen, she almost paid the ultimate price. She was shot in the head at point-blank range while riding the bus home from school, and few expected her to survive.

Instead, Malala's miraculous recovery has taken her on an extraordinary journey from a remote valley in northern Pakistan to the halls of the United Nations in New York. At sixteen, she has become a global symbol of peaceful protest and the youngest-ever Nobel Peace Prize laureate.

I Am Malala is the remarkable tale of a family uprooted by global terrorism, of the fight for girls' education, of a father who, himself a school owner, championed and encouraged his daughter to write and attend school, and of brave parents who have a fierce love for their daughter in a society that prizes sons.

I Am Malala will make you believe in the power of one person's voice to inspire change in the world.
This book has been on my To Read list for a while.

I was interested to read the story of a girl passionate about education.

What inspired her?

What gives her strength?

And even once I requested the book from my local library, it took me a bit longer to start reading it.

Regardless of which version I requested, the library kept sending me the Young Reader Edition.

Not what I was looking for.

However, in hindsight, I might have enjoyed it better had I read the Young Reader Edition.
This is a book I probably should have quit considering all of the other books I have stacking up to be read.

It was not at all what I expected.

Where I expected a story about a teen who was an education advocate I found a book filled with Pakistani and Muslim history.

Where I wanted a focus on the person I received a focus on politics and corruption.

The beginning of Part 1 and Part 5 were probably the most personal.

The rest were not.

So the basic premises of the story ended up not being what I was interested in for this read.
Add to that the writing challenges, and I don't think it is a book I will be recommending any time soon.

All the names and places were confusing.

Especially when she would write "The person's name is X but I call him Y."

That occurred regularly, and then you didn't know which name would pop up in the future.
There was a lot of jumping back and forth from history to present day politics.

The story was missing any sort of smooth flow or running narrative.

Jumping topics occurred regularly.

Additionally, random conversations between Malala and her friends or aside comments would be inserted into the prose that had nothing to do with the current context.
Add to that the verb tense and language issues that probably are just a result of English being a second language made it a confusing book to read.
Throughout the book I received no real sense of who Malala is as a person.

If you are looking for a memoir, this isn't it.

If you want to learn more about Pakistani history and politics, this is the book for you.
I wanted to love it; I just didn't.