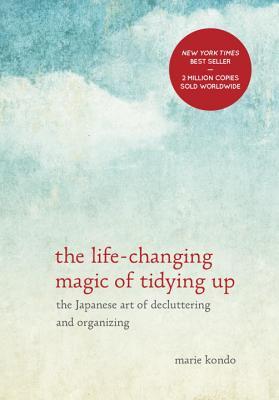 Publisher:
Ten Speed Press


Release Date:




October 14, 2014
Market:


Secular
Genre:


–

Non-Fiction;

Self-Help; Organization;




Length:




–

213 pages




My Rating:
1.5/5
About This Book (from Goodreads)
This
New York Times
best-selling guide to decluttering your home from Japanese cleaning consultant Marie Kondo takes readers step-by-step through her revolutionary KonMari Method for simplifying, organizing, and storing.


Despite constant efforts to declutter your home, do papers still accumulate like snowdrifts and clothes pile up like a tangled mess of noodles?

Japanese cleaning consultant Marie Kondo takes tidying to a whole new level, promising that if you properly simplify and organize your home once, you'll never have to do it again. Most methods advocate a room-by-room or little-by-little approach, which doom you to pick away at your piles of stuff forever. The KonMari Method, with its revolutionary category-by-category system, leads to lasting results. In fact, none of Kondo's clients have lapsed (and she still has a three-month waiting list).

With detailed guidance for determining which items in your house "spark joy" (and which don't), this international bestseller featuring Tokyo's newest lifestyle phenomenon will help you clear your clutter and enjoy the unique magic of a tidy home—and the calm, motivated mindset it can inspire.
How and Why I Acquired This Book
I learned about this book on several blog sites.

Everyone is so excited about it.

And I love all things organization.

So I was geeked out to get a copy from the library and dive into it.
Oh, to be so disappointed.

I'm really in a funk after reading this book.

I wanted, expected, longed for it to be so much.

And it just wasn't.
I don't know if it was the whole your belongings and your home and other inanimate objects have feelings and thoughts and expressions that put me off.

Or if I'm really a hoarder because I love storage and organization solutions.

Or if I just didn't find much of practical use for my life.

And while I think the idea of keeping only those things that "spark joy" in you has merit, there are a lot of things I own (like anything to do with cooking or cleaning) that don't spark joy in me at all but are fairly necessary.
I'm still confused by one huge thing.

Marie Kondo says tidying (the decluttering part at least) should happen quickly and all at once.

However, in another part of the book, she says it should take 6 months.

Big difference there.

Although all at once (as in one – or even two – days) is probably fairly impractical for most people.
That being said, I did have some take-aways I plan to put into practice.
I was pretty convicted by the "sometimes means never" for unread books.

We probably shouldn't get into the many books on my shelves waiting to be read (or if I will get rid of them).

Yikes.
While confused about what quickly and all at once decluttering means, exactly, in terms of time, I do agree with that as well.

After all, I've been "working" on my 40 Bags in 40 Days decluttering list for more like 40 weeks.

Okay, not quite that long.

But almost (hangs head in shame).

So to get on a roll and keep sorting through and continue getting rid of things makes sense to have the momentum to carry you through a whole house full of stuff.
I also will be implementing some of her clothes folding techniques.
All in all, it was a short book.

So I'm not horribly aggrieved by the amount of time I spent reading it.

I do sort of wonder what I'm missing since everyone who recommended it on their blogs raved about it and said it was life changing.