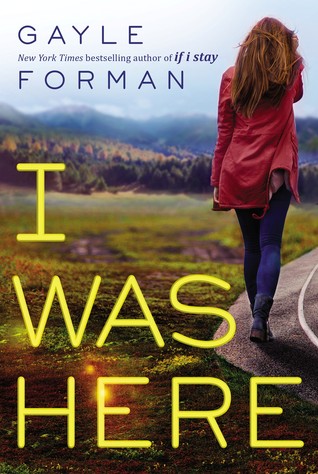 Publisher:
Viking Juvenile


Release Date:




January 27, 2015
Market:


Secular
Genre:


–

Young Adult




Length:




–

270 pages




My Rating:
4/5
About This Book (from Amazon)
Cody and Meg were inseparable.
Two peas in a pod.
Until . . . they weren't anymore.


When her best friend Meg drinks a bottle of industrial-strength cleaner alone in a motel room, Cody is understandably shocked and devastated. She and Meg shared everything—so how was there no warning? But when Cody travels to Meg's college town to pack up the belongings left behind, she discovers that there's a lot that Meg never told her. About her old roommates, the sort of people Cody never would have met in her dead-end small town in Washington. About Ben McAllister, the boy with a guitar and a sneer, who broke Meg's heart. And about an encrypted computer file that Cody can't open—until she does, and suddenly everything Cody thought she knew about her best friend's death gets thrown into question.

I Was Here is Gayle Forman at her finest, a taut, emotional, and ultimately redemptive story about redefining the meaning of family and finding a way to move forward even in the face of unspeakable loss.
How and Why I Acquired This Book
I have previously read two other Gayle Forman books (If I Stay and Where She Went).

This one showed up in my Goodreads YA newsletter.

The synopsis sounded intriguing, so I requested it from my library.
My Expectations about This Book
I have read books by Gayle Forman previously.

They were okay.

The premise of this one was more interesting to me than the other two.

Additionally, I like to keep my finger on what is new in YA literature due to my previous work as a junior high English teacher and having a teen and tween of my own..

As her book If I Stay was made into a movie and thus had increased exposure to teens and tweens recently, I figure many young adults will be reading her latest.
Were my expectations met?
While the book didn't end up quite how I thought it would, it is my favorite of her books so far.
I have no qualms with the grammar or paragraphing in this book.

The chapters are short, which is great for young students reading a bit here and there as free time allows (or for mommies of toddlers).
The story does flow with a good balance of introspection and dialogue.

There wasn't really a lot of description, but I don't feel that much description was necessary to tell this story.
Characters & Points-of-View
The main characters are well-developed.

I found the supporting characters to be more cookie cutter.

While never having experienced what Cody is dealing with in the novel, I felt like I could understand her feelings, her motivations, and the actions as a result.
There is some romance – or at least boy/girl relationship – in the book.

It wasn't very romantic, but pretty real for what some teenagers and young adults do.

Definitely more of a side story than the focus of the novel.
There is quite a bit of strong language in the book.

This was disappointing as I feel it did nothing to enhance the characters or the story.

It was just there because that's how it's assumed most teens talk.
Also, there is smoking, drinking, and sex.

Not to mention the sensitive topic of suicide running throughout the book
Originality & Predictability
I think the novel is a fresh look at suicide and those who deal with it.

Like I said at the start, the story didn't pan out exactly how I thought it would.

But it was much more believable this way.
Audience Appropriateness & Appeal
The target audience is teens.

I would say the more appropriate audience would be older teens and young adults.

I would not be on board with my 12 or 14 year olds reading it at this point in their lives.

Probably when they were older and with a lot of discussion as they read.
I think this book would be acceptable to some conservative readers.

But most would read it to be able to have the discussions necessary with teens who are reading it.
Engagement, Entertainment & Investment
I did lose sleep over this book.

The short chapters made it possible to justify reading "just one more."

In fact, I read the book in a 24 hour time frame.
·
Real characters dealing realistically with hard situations
·
Addresses suicide and the reasons behind it head on
·
Language, smoking, drinking, and sex
·
Some hypocrisy among some of the identifying Christian characters
***My full review will be posted on The Christian Manifesto website at a future date.